Yes, this "Bored in the Dorm" episode was inspired by the "Bored in the House" Tik Tok sensation. Because, one way to thrive in these unique times and circumstances is to have some fun, even when you are focused on your academic success!
Because of the pandemic, many students are stuck in their dorms alone to ensure the safety of people around them. Due to the lack of physical interaction that is usually a highlight of a college campus experience, some students are experiencing "cabin fever" or a lack of focus on academics or too much procrastination. 
This episode features peer leaders who know a lot about what students on campus deal with and how they can overcome those challenges: resident assistants. Listen in to meet Zoe, Chris, Passion and Shaneen and their tips, tools and takes on preventing and minimizing boredom in the dorms.
NOTE: All of their advice and insights apply if you are bored in the house or apartment, too!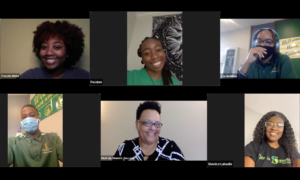 tips tease
Switch up your regular routine

Go outside to get some fresh air

Establish a hobby outside of academics

Tune in to and prioritize good mental health 

Stay connected to friends and family 
tools
 Mentioned in the Episode
USE A CALENDAR

Don't procrastinate

Practice time management skills

Create a class group chat for study groups or accountability partners

Set phone alarms

NOTE: Links to resources outside of NSU are not an endorsement.
credits
This episode was hosted by Dr. Mebane and Ms. White and produced by Ms. Tresstin White with an assist from Dr. Mebane.
Photo: L to R. Ms. Tresstin White,  Dr. Mebane. Screenshot taken by Dr.Mebane.