Last week (in episode 18), we checked in with students to see how they are doing five weeks into the fall 2020 semester, and we received a lot of feedback. For this episode, as we the fifth week ends, we checked in with a faculty member's perspective on how to keep up the great work or improve your learning experience (and grades) for the remainder of the semester.
Our special guest for this episode is Dr. Khadijah Miller, a professor of in the department of History & Interdisciplinary Studies, a senior faculty fellow for the Honors College and a former department chair. Dr. Miller shares her take on the tips and tools for this time of the academic year.
NOTE: Special thanks to Dr. Miller for being our guest on the six month anniversary of the podcast!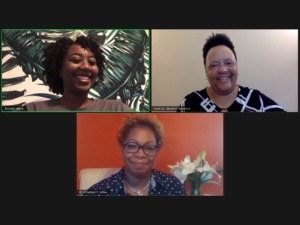 tips tease
If you have not recieved a grade at all for a class, talk to your professor.
This can be a wake up call. If you don't like where your grades are, it is not too late to change them.
Spend at least three hours a week of study and engagement outside of class to learn and make good (or better) grades.
tools
Your Professor
The NSU Library (online)
A class group chat or study group
Support services like the Student Success Center (for freshmen and sophomores)
NOTE: Links to resources outside of NSU are not an endorsement.
credits
This episode was hosted by Dr. Mebane and Ms. White and produced by Ms. Tresstin White with an assist from Dr. Mebane.
Photo: L to R. Ms. Tresstin White, Dr. Khadijah Miller and  Dr. Mebane. Screenshot taken by Ms White.