With all that's going on in the world, we wanted to highlight the importance of voting and making a change. Our special guest is Dr. Khadijah Miller, a professor of interdisciplinary studies and a senior faculty fellow for the Honors College. This episode identifies why you should vote  and the impact it has on the world.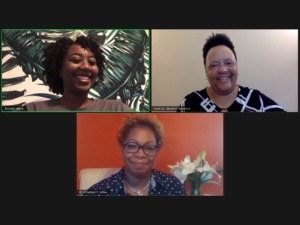 tips tease
Vote.
Be prepared and know where to vote. (The NSU Housing office usually provides a shuttle)
Look for which candidate represents your interests the best (or the lesser of two evils).
tools
Mentioned in the Episode
(for candidate information)
NAACP
Urban League
Vote Up
Whenweallvote.org
Local newspaper
Local registrar
NOTE: Links to resources outside of NSU are not an endorsement.
credits
This episode was hosted by Dr. Mebane and Ms. White and produced by Ms. Tresstin White with an assist from Dr. Mebane.
Photo: L to R. Ms. Tresstin White, Dr. Khadijah Miller,  Dr. Mebane. Screenshot taken by Ms White.