College students preparing to be professional artists, scholars, business leaders, policymakers, researcher, etc. look for role models who can mentor them as they prepare to work within their particular fields.
This episode features Dr. Jason Demeter, an Assistant Professor in the Department of English and Foreign Languages at Norfolk State University. Dr. Demeter was recommended to be a guest by NSU student (at the time), Mikayah Henderson. Ms. Henderson really appreciated Dr. Demeter's Shakespeare class and how he supported her and other students.
Using his own experience as a graduate student and passion for helping students as a framework, Dr. Demeter shares his perspective on mentoring and academic success, including tips for finding the right mentor to fit your interest.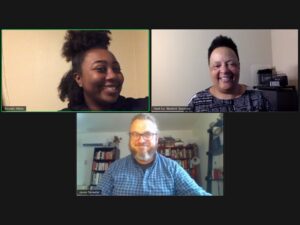 tips tease
Mentors can be with you for the rest of your career (a long term relationship).
Find someone who inspires you and encourages you to do your best.
Not everyone you like will be a good fit as a mentor.
Be intentional about your future goals in order for your mentor to provide the possible support for you.
tools
Mentioned in the Episode
Reach out to people who inspire you or have the level of success you want to achieve.
Use office hours to meet faculty one-on one as one way to establish a mentoring relationship.
NOTE: Links to resources outside of NSU are not an endorsement.
credits
This episode was hosted by Dr. Mebane and Ms. White and produced by Ms. Tresstin White with an assist from Dr. Mebane.
Photo: L to R. Ms. Tresstin White, Dr. Demeter,  Dr. Mebane. Screenshot taken by Ms White.