It's finals prep time, again. At Norfolk State University, the condensed fall 2020 semester ends in the next few weeks. In this episode, returning guest Dr. Rhonda Fitzgerald, a professor in the Mathematics Department, shares tips on how to #FocusToFinish strong. Whether you have final exams or final projects, her takes on study cycles, how to choose whether or not to take the pass / fail grade option and more are valuable.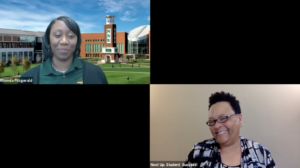 tips tease
Study smartly using a study cycle
Stay focused to finish strong
Be intentional
Plan your days
tools
Mentioned in the Episode
Reach out to faculty and staff when you need support. Use resources noted in the podcast, including class instructors faculty advisors, the Student Success Center and the Writing Center.
credits
This episode was hosted and produced by Dr. Mebane.
Photo: L to R. Dr. Rhonda Fitzgerald and Dr. Mebane. Screenshot taken by Dr. Mebane.